If you know my options trading strategy, I'm all about collecting options premiums… because I believe I can stack the odds in my favor.
The reason I turned to this strategy is that I wasn't able to make money buying options, I kept taking it on the chin.
Now, while I do primarily stick to credit spreads… that doesn't mean I'm not trying to step my options game up. 
Since I want to uncover more potential ways to make money, I decided to turn to my former student, Kyle Dennis. He's been absolutely crushing it in the options market. 
Heck, he even spotted the move in Vecto IQ Acquisition (VTIQ)… before the move happened.
So I asked Kyle what his edge is when it comes to options trading.
He replied, "For me, it's simple. My Dollar Ace scanner does all the heavy lifting for me and it detects 'smart money' activity."
When he mentioned that… I was intrigued.
So I asked him, "What's your 'smart money' scanner and how does it work?"
I'm a firm believer that options buyers are at the mercy of time decay and implied volatility (IV) drops. However, when Kyle told me his scanner actually provides him with an edge, I was extremely interested… I just needed to know what he was talking about.
So Kyle asked me, "Do you know how the smart money traders operate?"
Now, I know that they have an army of analysts conducting due diligence, state-of-the-art technology, and information everyday traders aren't privy to.
Kyle told me that the "smart money" players actually use options to leverage their capital and put their money behind their best ideas.
He also told me when they trade options, they may seem like long-shot bets to the naked eye… 
I said Kyle, what do you mean by that?
Well, he said let me show you with an example in GrubHub (GRUB).
Did The Smart Money Know About GRUB?
Of course, I was on the edge of my seat when Kyle mentioned GRUB because the company was just approached by UBER for a potential buyout.
Kyle said his scanner actually detected "smart money" activity in GRUB late last week.
More specifically, someone came in and purchased 2300 GRUB June 2020 $55 calls… when the stock was trading around $45. That meant that the trader needed the stock to move more than 25% to make money.
The thing is, to me, that actually looks like a losing trade… but not to Kyle and his scanner.
He believes these trades can actually signal a large move in the underlying stock because he's seen it happen so much.
According to Kyle, the trader threw down about $218K in those options… and guess what happened?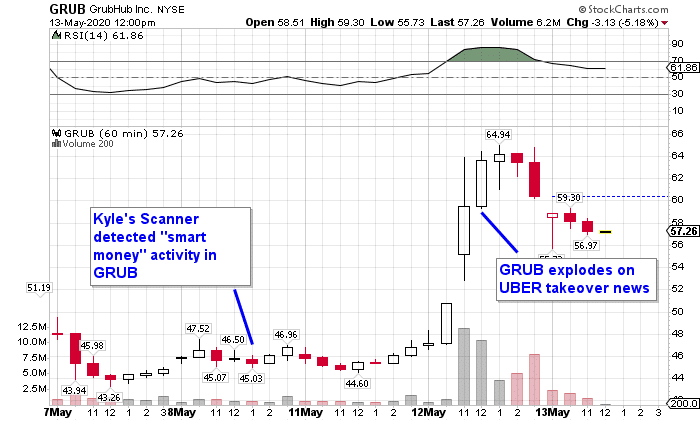 Chart Courtesy of StockCharts
That "smart money" trader could've made more than 10X their money at one point…
Now, Kyle actually told me he's going to reveal all the details about his scanner tomorrow at 8:30 PM ET.
He said he doesn't have any plans to record the event, so I should be in attendance… and I'll definitely be there.
If you want to learn more about Kyle's scanner, then register for his one-night-only event and be in attendance!