It's been a pretty wacky market out there, but it seems as if the "buy the dippers" are still in control.
Could stocks see similar price action this week? We'll just have to wait and see.
If you haven't heard yet, I notched my seventh straight win in a row using my Weekly Windfalls strategy.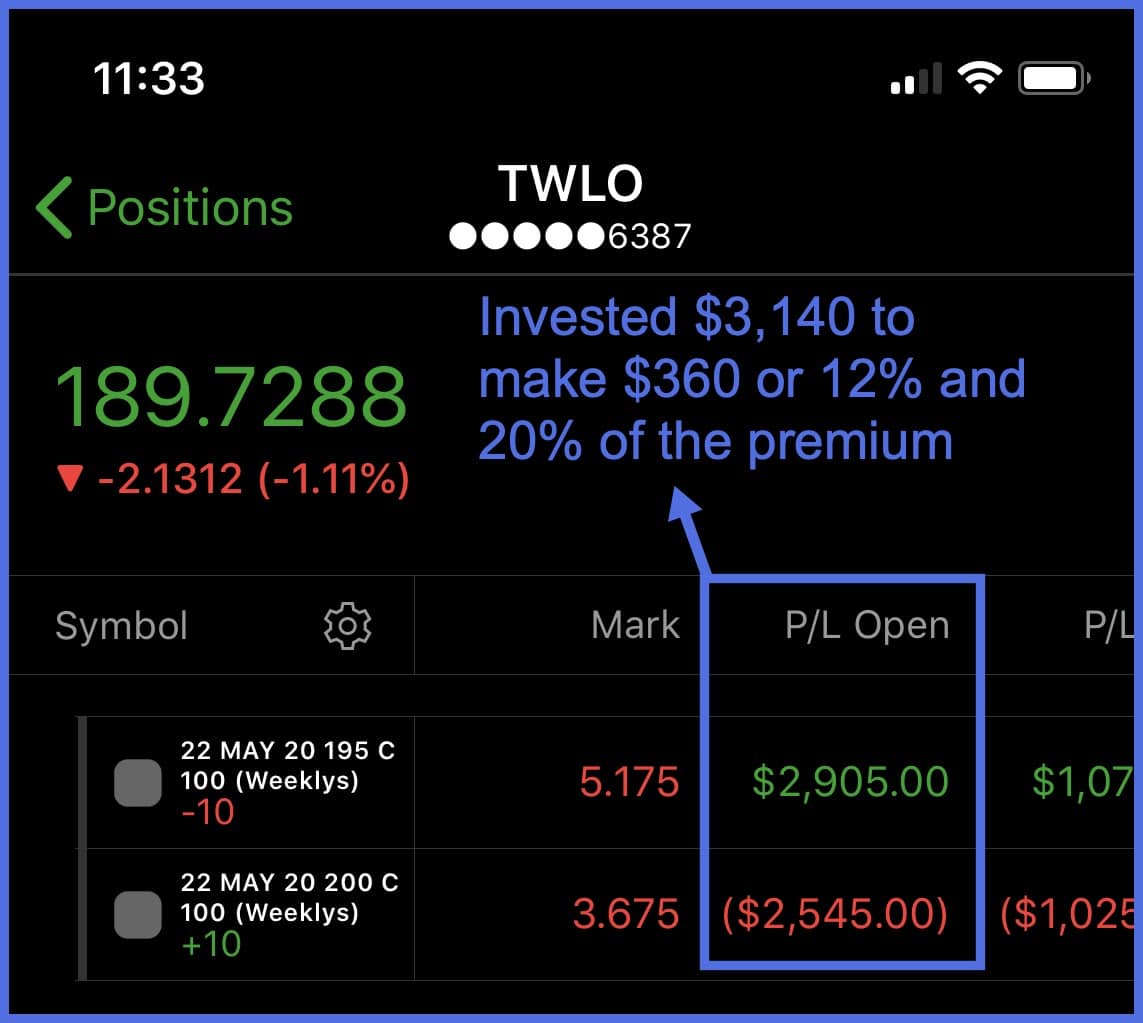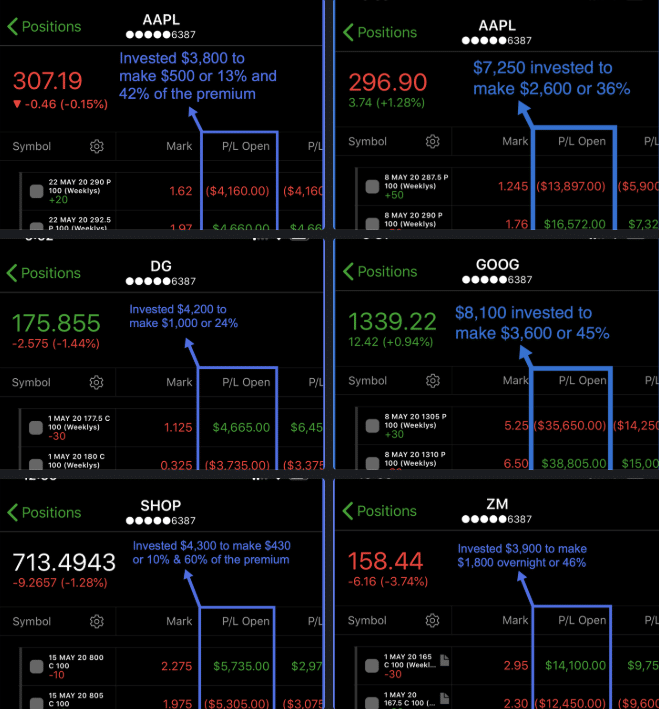 Now, I attribute my recent success to remaining nimble and focusing on chart setups — which have helped me identify
For the most part, this week, I'm going to stick to my guns and look to continue my win streak… and I want to show you how I plan to do it.
At these levels, I've started to notice that there are specific indicators that have been respected by the market. To me, it's almost like a self-fulfilling prophecy… where many traders are looking at the same thing and actually trade off the same setup.
What do I mean by that?
Well, if there are traders referencing a key moving average at a support level, they may look to buy around there… and if the buying pressure remains high, chances are the stock will catch a pop.
Now, for me personally, I've been using exponential moving averages to identify key levels to select the strike price for my credit spread trades.
I know what you're probably wondering, "Jason, what are exponential moving averages (EMA)?"
Exponential Moving Averages (EMAs) For Strike Price Selection
You've probably heard of simple moving averages (SMA) before. Now, the difference between exponential and simple moving averages is that EMAs place more weight on recent price action.
In my opinion, that makes sense because the more recent price action is likely to be where other traders will be referencing.
For me personally (and many technical traders out there), I like to reference the 8, 21, and 34 EMA.
Why?
Well, they're actually part of the Fibonacci sequence — and I'm a firm believer they can help me identify key areas for when I select the strike prices for my credit spread trades.
Now, here's what I sent out to Weekly Windfalls subscribers last week…
I'm referencing the 8 EMA at $305 as support followed by the 21 EMA at $293. Depending on how much more the markets dip Thursday will determine which area I sell Puts below. Right now I favor further out of the money so the 21 EMA for next Friday. $2.50 wide on my AAPL trades and maybe 30-40 contracts.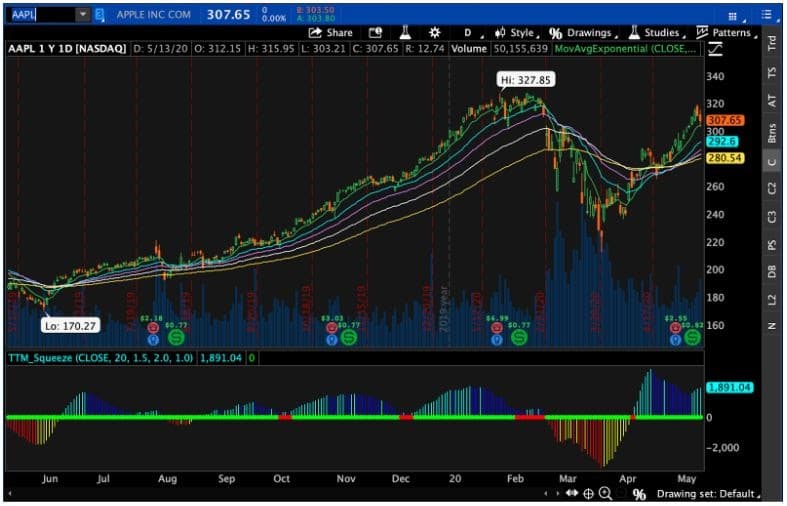 Source: thinkorswim
Now, at the time, AAPL was trading above $300… and if you look at the daily chart below, you might get a better idea of what I was looking at here.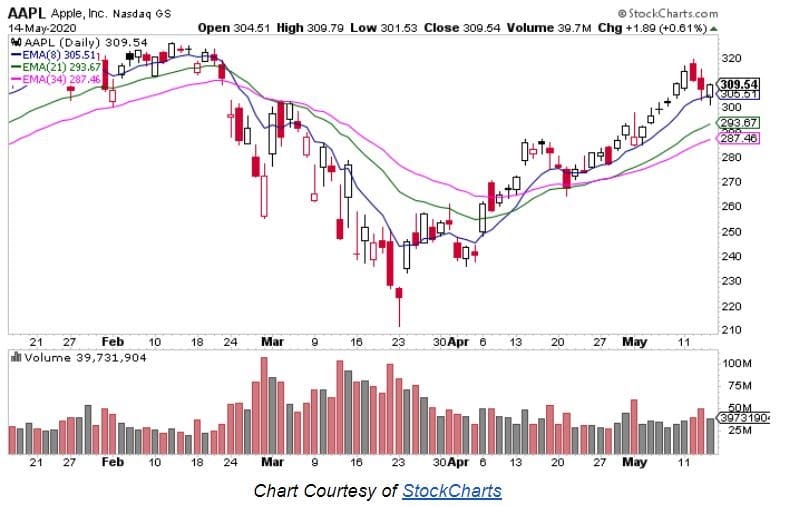 With this specific setup, I believed AAPL would stay above the 8-day EMA (the blue horizontal line above) because that tended to be a key support level recently. Now, if AAPL broke below that, the next line of defense, in my opinion, was the 21-day EMA (the green line above).
Now, with this specific trade, I actually wanted to sell a put spread. What that means is I wanted to place a risk-defined trade to collect premium… and I was betting AAPL would stay above a key level.
More specifically, I believed that AAPL would stay above $290 before the options I sold expired (which was next Friday). With that being said, AAPL actually caught a pop and I was able to lock in a quick winner.
If you want to learn more about how I'm able to use credit spreads and charts to my advantage, click here to claim a complimentary copy of my eBook: Wall Street Bookie.