The market is getting dicey at these levels, and some traders are placing some wild bets.
By wild, I mean the chances of them winning are so low…
That only a "sucker" would take it.
This week, I'll be on the hunt for some "sucker bets" to take advantage of, as well as keeping an eye on some low-odds bets I saw last week.
Today, I want to show you some of the wild bets that came across my scanner and how I may look to play them.
When it comes to the "sucker bet scanner", it helps with generating trade ideas.
You see, there are a lot that come across the scanner every trading day… and if you're able to spot the ones with low odds, then it's possible to set yourself up for success.
Let me show you what I'm talking about here.
Check out some of the bets that came across the radar on Friday.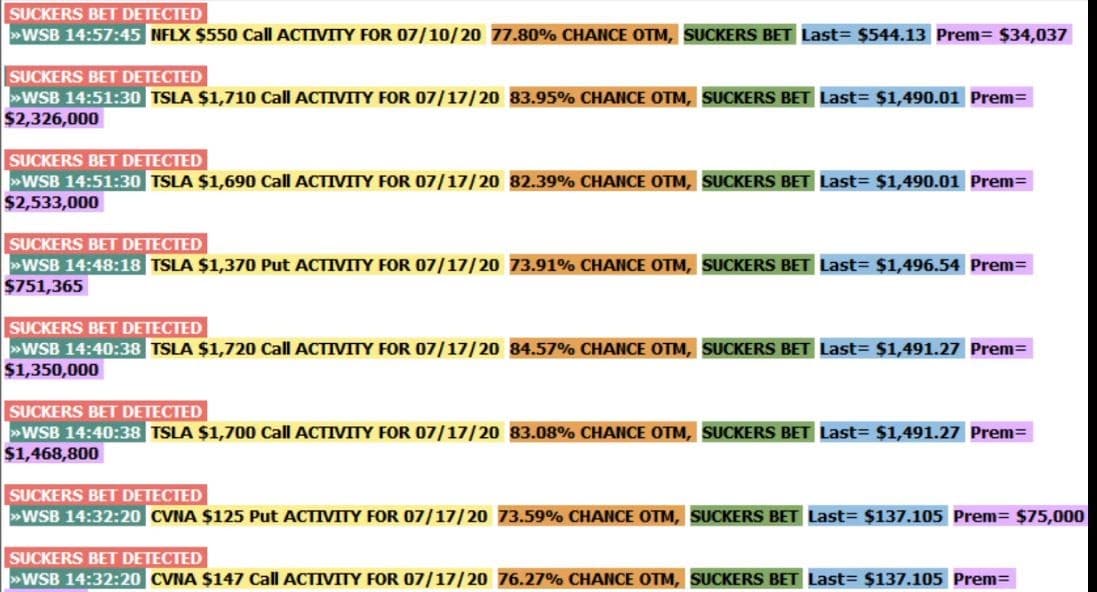 If you look above, you'll notice a slew of bets in Tesla (TSLA) and Carvana (CVNA).
If you notice in the orange highlight next to the options activity, this show X% chance OTM.
This lets me know the odds of that trade expiring out of the money (OTM).
If you know options, you'll know that "% Chance OTM" indicates the odds that specific trade will expire worthless.
So if there is a trade that shows 80% chance OTM, that means the trader who bought that specific options contract has just a 20% chance of making money…
On the other hand, whoever sold to open those options, would have an 80% chance of winning.
Sounds simple to me.
How can this information be used?
Let's say I'm bearish on TSLA and don't think it will rally again next week.
Well, someone purchased the $1,720 calls expiring on July 17… when the stock was trading at $1,491.
That gives me an idea because those options had an 84.57% chance of expiring worthless.
Instead of buying puts on TSLA, I can look to sell calls.
However, selling calls outright can be dangerous, especially on a stock like TSLA.
So an alternative here would be to sell a call spread.
Basically, I could look to sell the $1,720 calls and simultaneously purchase further out of the money calls.
That way, on the off chance that TSLA makes a massive move… I would be safe because my bet would be hedged.
Now, I don't necessarily have to take that exact "sucker bet". I can also look to sell deeper out of the money call spreads… it all really depends on the price action for me.
You'll also notice a "sucker bet" in CVNA… but with such the odds of winning on either of those trades in the 70% area, I may not be too comfortable to take it…
But I may still keep it on the radar.
That's the beauty of the "sucker bet scanner". It signals me to potential trade ideas and stocks I may want to watch and use a risk-defined strategy to take advantage of them.
If you want to learn more about the strategy I use to stack the odds in my favor and how I gain off the low-odds bets out there, check out my latest eBook.
Inside, you'll get a crash course on options trading, and you'll learn my strategies through real-money case studies.
Grab your complimentary copy here.